FetchDog.com
2007-2008:
FetchDog.com home page | Visit FetchDog.com


About this project: This project has been one of my greatest challenges and accomplishments. The pure depth of scope is more than I've ever engaged in. I designed hundreds of pages, all the UI and almost all of the initial code, CSS, Flash, emails, banner ads, internal graphics, promotions and templates. I also learned a great deal about designing for conversion while guiding the user through an sleek, AJAX checkout process. Visit FetchDog.com
Accolades: Winner of the TechMaine awards for "Company of the Year". Also featured on Cool Home Pages, The Martha Stewart Show, The Rachel Ray Show, The Oprah Winfrey Show and more!
Additional Credits: Initial backend development by Micros Retail. Additional art direction by David Puelle.
Shop Category
A typical top-level shopping category with custom landing page graphics and dynamic sub-categories below.
Glenn Close's Blog, Lively Licks
Actress, Glenn Close is also a major animal advocate. Her Blog took on a life of its own on FetchDog as she interviewed celebrity friends and animal professionals about their love of dogs.
The Breed Center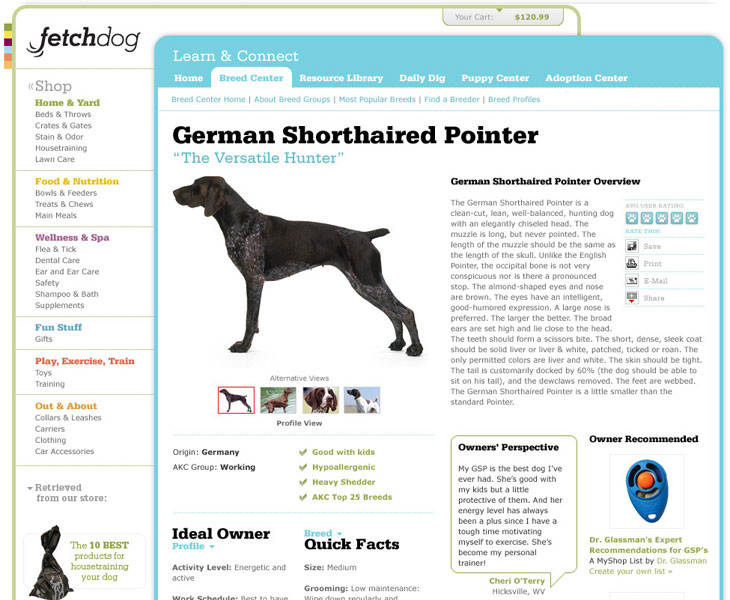 A robust informational resource for over 160 dog breeds.
The Breed Selector tool
This graphically rich interactive survey matches a prospective dog-owner with a range of ideal dog breeds so that he or she can make a more educated selection. Aside from being a fun diversion on the site, tools like this are designed to reduce the overpopulation of shelters by encouraging owners to perform research in advance.
MyFetch social networking and social shopping platform
Although many of this robust social networking platform's intended features were left on the drawing board due to a lack of resources, a functional piece with many useful tools and great potential remains.
FetchDog Local Directory search tool
Still in its infancy, this google maps mashup finds localized pet resources on the fly. By partnering with veterinary networks and other pet professionals nationwide, FetchDog plans to monetize this application in the future by offering premium listings and possible advertising opportunities.
Email marketing templates
Just a few of the dozens of custom email newsletter templates pumped out to varioius market segments.
Promotional banner ads
One of up to 10 sizes produced for over 30 campaigns.
Projects: View All
RECREATION
CONSUMER
EDUCATION
MUSIC
SERVICES
MISC