about me:

"What I do, and what I don't do."
Screenshot:
I'm an independent interactive designer based in Heber City, Utah. I have been designing for the web since 1998, and have experience working at branding agencies, private companies, and as a contractor. After earning a design degree from Northeastern University, I worked in Boston for several years before moving to Utah, where I now live, work and play. My passion is for website front-end design: look-and-feel; user experience; usability; typography; branding; and high-impact messaging.
In order to produce my best work and stay sane, I try to keep my project list to a manageable few. But I'd love to discuss your project. If I can't help, I'll refer you to someone who can.
"So... What exactly do you do?"
I specialize in user interface design. That means that I make every effort to use best practices to produce usable, accessible, readable, standards-compliant and (hopefully) beautiful websites that earn measurable results for my clients. I design or redesign websites using SEO-friendly (X)HTML and CSS techniques. Incorporating varioius front-end scripts, I like to be creative in enhancing the user experience, without compromising usability.
Resourcefulness is something I find essential to each project. I don't know everything, but I make every effort to keep a project moving. Sometimes this means being a part-time copy-writer, photographer, illustrator, logo designer, project manager, programmer, IT specialist, babysitter, hostage negotiator and therapist. Whatever the project requires, I'll find a way to get it done even if it means recruiting help from other talented specialists.
Despite my passion for design, I try to be easy-going and accepting of client input. My clients' satisfaction is a top priority. I'm very proud and grateful for the great client relationships and professional associations I've been able to cultivate over the years. Please feel free to read what my clients have to say about me.
My skills
Primary Skills

Website Concept Design
(X)HTML/CSS
Animation, Flash
Javascript, jQuery
Information Architecture
Email Templates
Banner Ads
Secondary Skills

Logo Design
Print Design
Illustration
Copy-Writing and Enhancement
Photography
Basic SEO/SEM
Things I Just Don't Do

Development or Dynamic Scripting
IT & Server-side Maintenance
Database Administration
Desktop Support
Excessive Flash
Powerpoint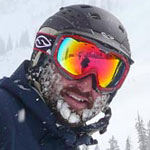 Joe Myers
Download My Résumé