testimonials:

"Excessive praise from nice people."
Joe is one of the most talented and fastest web designers you'll meet. Within his first year at American Skiing Company, he was awarded "Adobe Site of the Day" twice. His work is fun, interesting, clean and did I mention that he gets stuff done? Joe works well both independently and as part of a development team. And, as a bonus, Joe is warm and engaging and someone that everyone wants to be around.
Diane Murphy Foster
VP of Marketing Services, American Skiing Company
Joe completely obliterated and surpassed any goal we had set for the year. The amount of award-winning and quality work that he completed during the past year was monumental. He single-handedly increased our website presence to dominate the industry with work that would be judged outstanding at any level and in any industry.

He is a tremendous designer: diligent, thoughtful, articulate and cutting-edge with his vision and execution.

Time and again, the resort marketing departments were overwhelmed with the work he produced for them. Too many accolades and praises to even document.

I would safely say that Joe generated over $250,000 in retail, interactive design work for us during the past 12 months.
Jamie Ippolito
Director of Interactive, American Skiing Company
I had the pleasure of working with Joe years ago at Benes Brand Imaging, where he was an invaluable member of our design team.He posses an enormous amount of talent with a unique skill set which he continuously builds on, making him one of the most talented web designers I've worked with. He keeps up with the latest in web and if there's something he doesn't know, he quickly learns it.
Lynn Mccormick
Art Director, Jumping Jackrabbit Design
Working with Joe is like being in a fireworks display: he keeps on coming up with ideas that are fresh and new, all sparking creative directions and innovation. Joe is one of the most fun people you could work with, and at the same time a consummate professional in maintaining client relationships and interactions. Joe is an asset that can jumpstart any shop from idea drought to a thought leader.

Yuval Zukerman
Senior Consultant, Technical Architect, Molecular
It has always puzzled me how Joe's brain fits inside his skull, he's just an incredibly smart guy. His talent in design and new media is unmatched in my opinion. But, what makes him really shine is his jovial and pleasant demeanor paired with drive/results that makes him a pleasure to work with on a daily basis.
Chris Petty
Marketing Database & Technology Manager, The Canyons Resort
Joe is a lot more than a flash guy or just a designer. His knowledge and experience make him a fun and valuable guy to work with.

Max Kloeppel
Designer / Developer, BuyMaxaBeer.com
Joe is always very responsive, quick turnaround and results and quality of work tend to exceed expectations. Valuable member of the web team.
Greg Keeler
Interactive Manager, Attitash Resort, NH
Joe was great to work with…
- Good design skills, strong technically
- Very open to receiving feedback and input which is not always true of creative people
- Always tried to understand comments and provide other creative ideas/solution/options (vs. just executing)
- Very collaborative and easy to work with, works well as a team
- Had a "roll up the sleeves" attitude which was extremely helpful to us in getting some of the more innovative programs workable within ASC budgets
- Low maintenance, no ego
Peter Izzo
Creative Director, Grove Marketing
Joe is a tremendous asset for the company. He has been a great resource for numerous projects, has built web features that would not have been possible without him, and has always been great to work with.
Nick Lambert
Brand Manager, Sunday River
Joe has been very instrumental in ramping up the quality and usability of our web site. His creative talents are impressive, and he clearly understand that a resort's web site must engage the guest, rather than just provide information. He has responded quickly to our requests, and he has taken the initiative a number of times to suggest improvements. We were without an interactive manager for quite some time and needed Joe's help often, but his attitude and responsiveness was always excellent.
Meri Spicer
Director of Marketing, Mount Snow
- very strong overall designer
- excellent flash capabilities
- exceptional orientation towards usability/UI
- strong at identity work as well
- extremely efficient
- strategically oriented--can understand a business objective and develop around it without significant direction and oversight
- takes feedback well
Peter Troast
Brand Manager, American Skiing Company
It has been a pleasure working with Joe both conceptually and tactically. When discussing strategic directions at an early stage of a project, he clearly understands the formal principals of interface design and has both listened to my framing of the goals on a particular project and been willing to respectfully push back on areas where he felt he had an insight. This willingness to engage in a thoughtful way is crucial to the honing of any new offering. I also have always gotten the feeling that his dialogue was driven from a desire to enhance the user's experience, not from a personal agenda to realize his own design theories. This is balance between personal engagement and thoughtful objectivity makes him a valuable member of any development team.

I respect and enjoy his design vision. When left to his own devices, he invariably has delivered a quality and often beautiful product. As a creative director, I always appreciate a designer who can get involved and make a project better, not just deliver what was described.

On the more mundane level of manning the design trenches, he has always made himself available to answer quick questions and share his considerable knowledge whenever someone in my studio needed help with tuning a website, or piece of Flash that we were creating. When he was leading the implementation, he always came back with a finished product well ahead of schedule.

He has earned my highest sign of respect: I would hire him for my studio.
David Puelle
Creative Director/CEO, Puelle Design
Back to top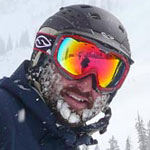 Joe Myers
Download My Résumé

Screenshot:
I live in Heber City, Utah with my wife Sarah, my son Charlie, and our Weimaraner Blü and Husky Roxie. When I'm not banging away on websites I like to ski, bike, or just enjoy the beautiful Wasatch Mountains.